Zynga Poker – Free Texas Holdem Online Card Games
21.80
Play Texas Holdem Online
If you are a fan of poker and love playing Texas Holdem then you are going to fall in love with this poker game. Zynga Poker – Texas Holdem is a nice game which allows you to enjoy playing poker with people from all over the world on your phone. It lets you showcase your talents as a poker player and win bigger and better payouts. You get to play different varieties of poker in this game. There is something on offer for everyone. For the novice players, there are many cash tables available that give you the chance to enhance your experience. Various online tournaments are offered to the experienced poker players where they can try to outwit the best poker players in the world.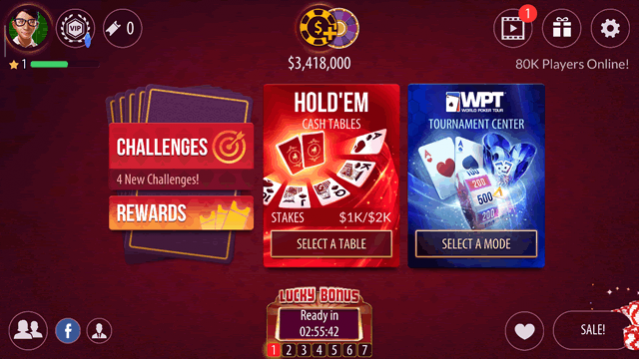 Zynga Poker – Texas Holdem combines slick gameplay with stunning graphics to provide an addictive gameplay experience to you. The visuals and the sounds of this poker game create an authentic atmosphere that resembles the atmosphere that you find in any Las Vegas casino. You can choose to play as a guest or log in using your Facebook account. Logging in via Facebook is the better option if you want to play poker with your buddies. However, it isn't compulsory. While playing as a guest, you will get the chance to play Texas Holdem with thousands of online players and see if you can beat them. The controls of this poker game are both intuitive and user-friendly. You won't have any difficulty in mastering them.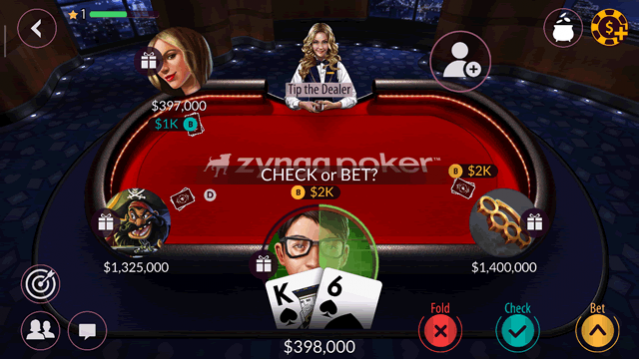 This online poker game offers multiple game modes to you. There are cash tables available that you can join for playing Texas Holdem. You have the option of choosing the stakes and maximum and minimum buy-in amounts before starting a game. There is also the option available to pick the speed of the game and the number of players you want to play with. Zynga Poker also offers a tournament center. Here you have two different modes available. The first one is Sit-N-Go and the second one is Spin & Win. Each of these tournaments has its own set of rules and payouts. You can learn the rules for each tournament mode by clicking the '?' icon located at the top-right corner of the screen.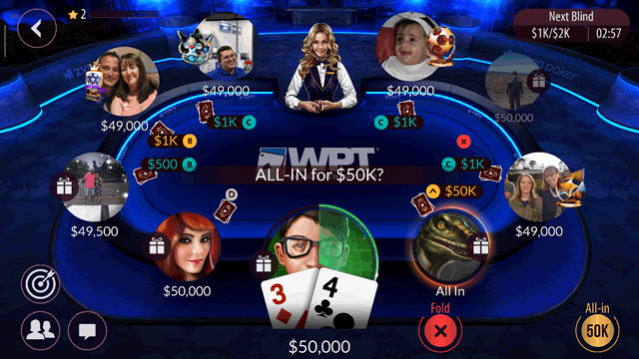 Zynga Poker – Texas Holdem is a very generous game when it comes to giving away free chips. You are provided with a substantial welcome bonus when you start the game for the first time. This bonus helps you in getting started. You can earn free chips by watching video advertisements and through the 'Mega Lucky Bonus'. Free spins for the Mega Lucky Bonus can be obtained by watching video advertisements too. You have various challenges to complete when playing this game. Completing these challenges can earn you tickets. You can redeem these tickets to earn various prizes.
Features:
Multiple game modes
Play different varieties of poker
Lots of cash tables available to play
'How to Play' guides available for new players
Limited time available to make your play
Play with friends or random people online
Chat with other players while playing
Participate in online tournaments
Multiple tournament modes on offer
Win bigger payouts by playing at higher stakes
A substantial welcome bonus and free chips
Complete challenges to earn tickers
Redeem the tickets to earn prizes
Conclusion:
Zynga Poker – Texas Holden is a gaming app which will primarily appeal to people who love playing poker at the casino. It enables them to enjoy the same gameplay experience at their homes that they get while playing poker at a casino in Las Vegas. It is a poker game worth having on your phone if you are an avid fan of Texas Holdem poker.
---
Add a review
Tell us your experience with
Zynga Poker – Free Texas Holdem Online Card Games
21.80
RELATED PROGRAMS
Our Recommendations
---
---
---
---